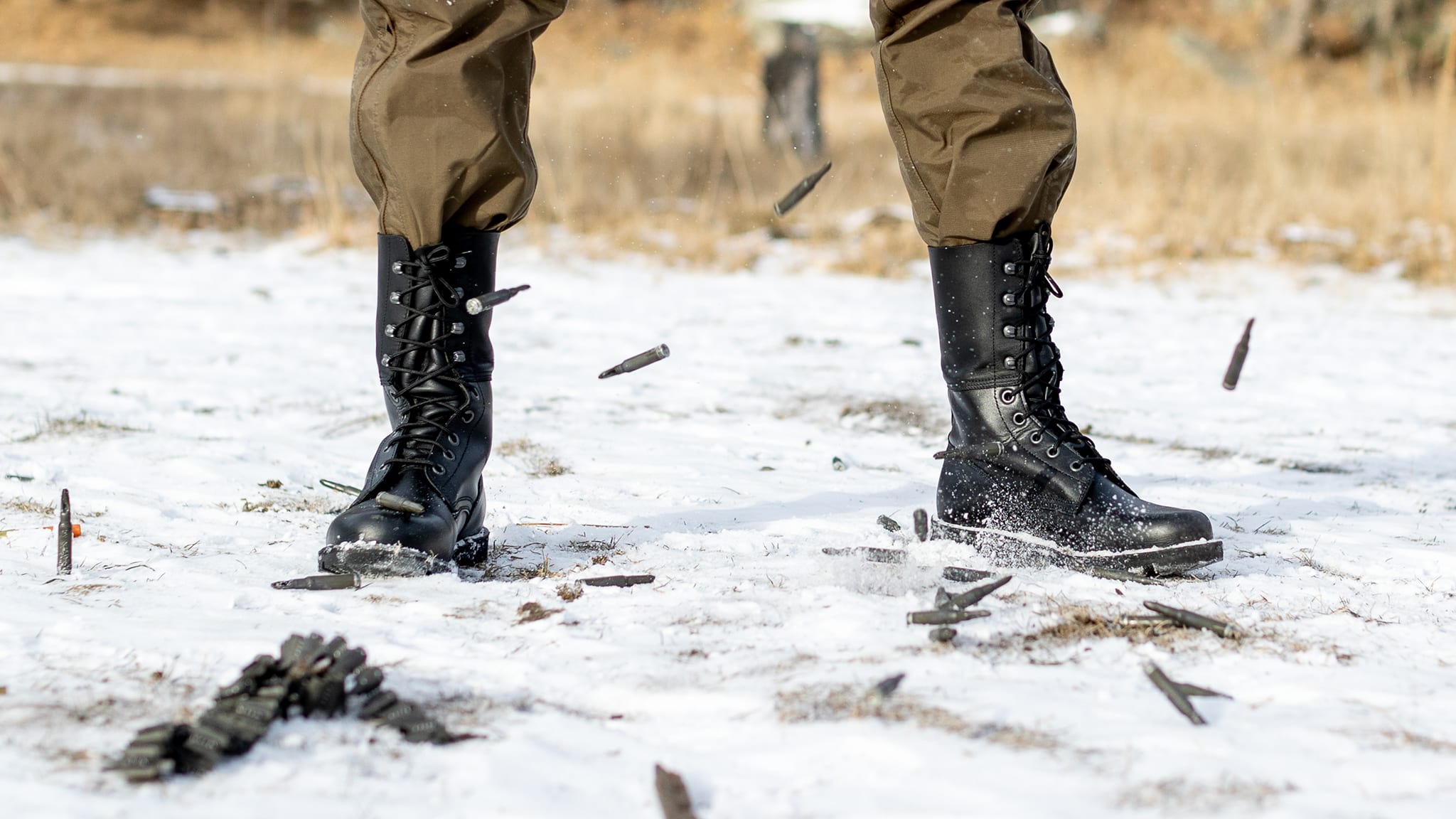 The greatest Austrian all-rounder brought stateside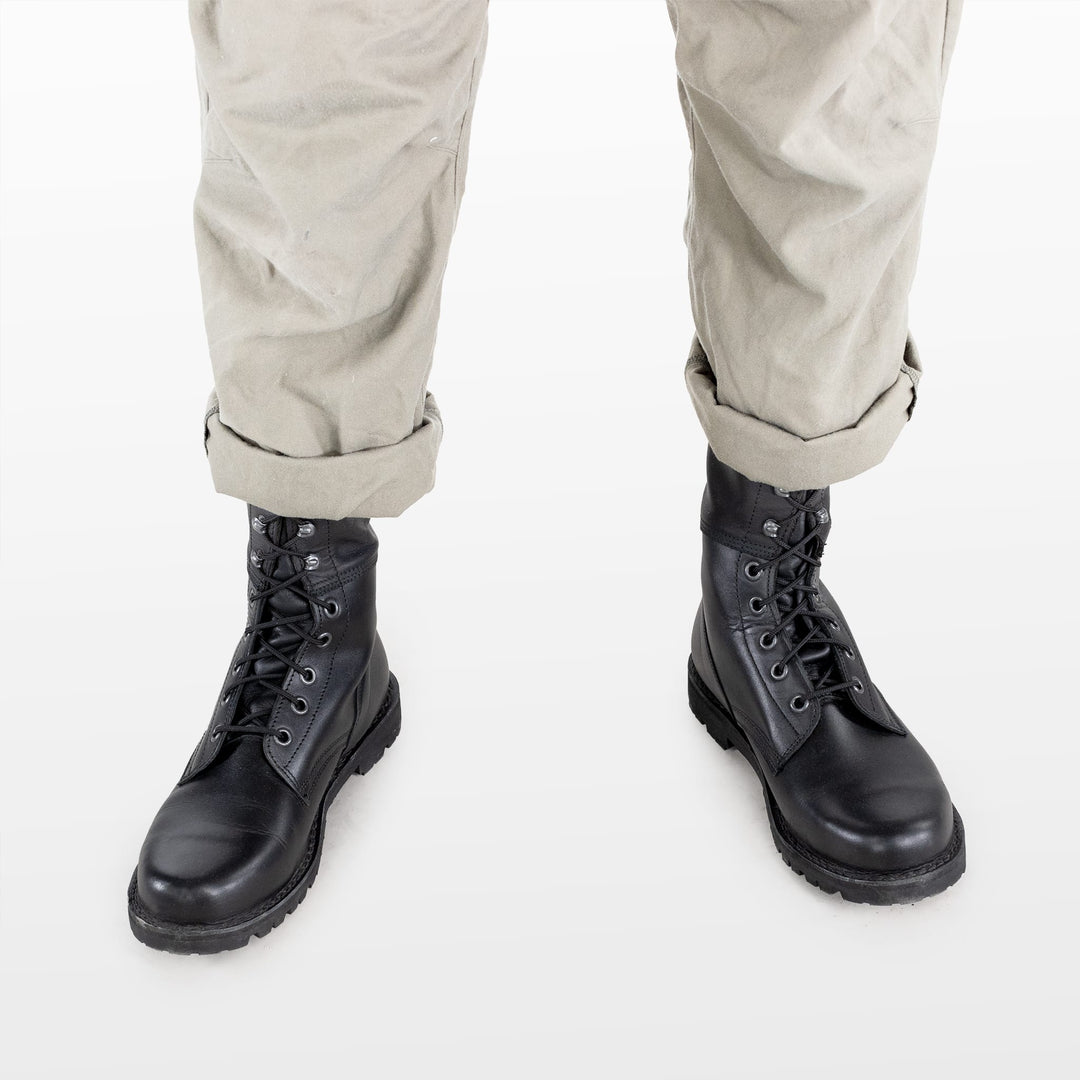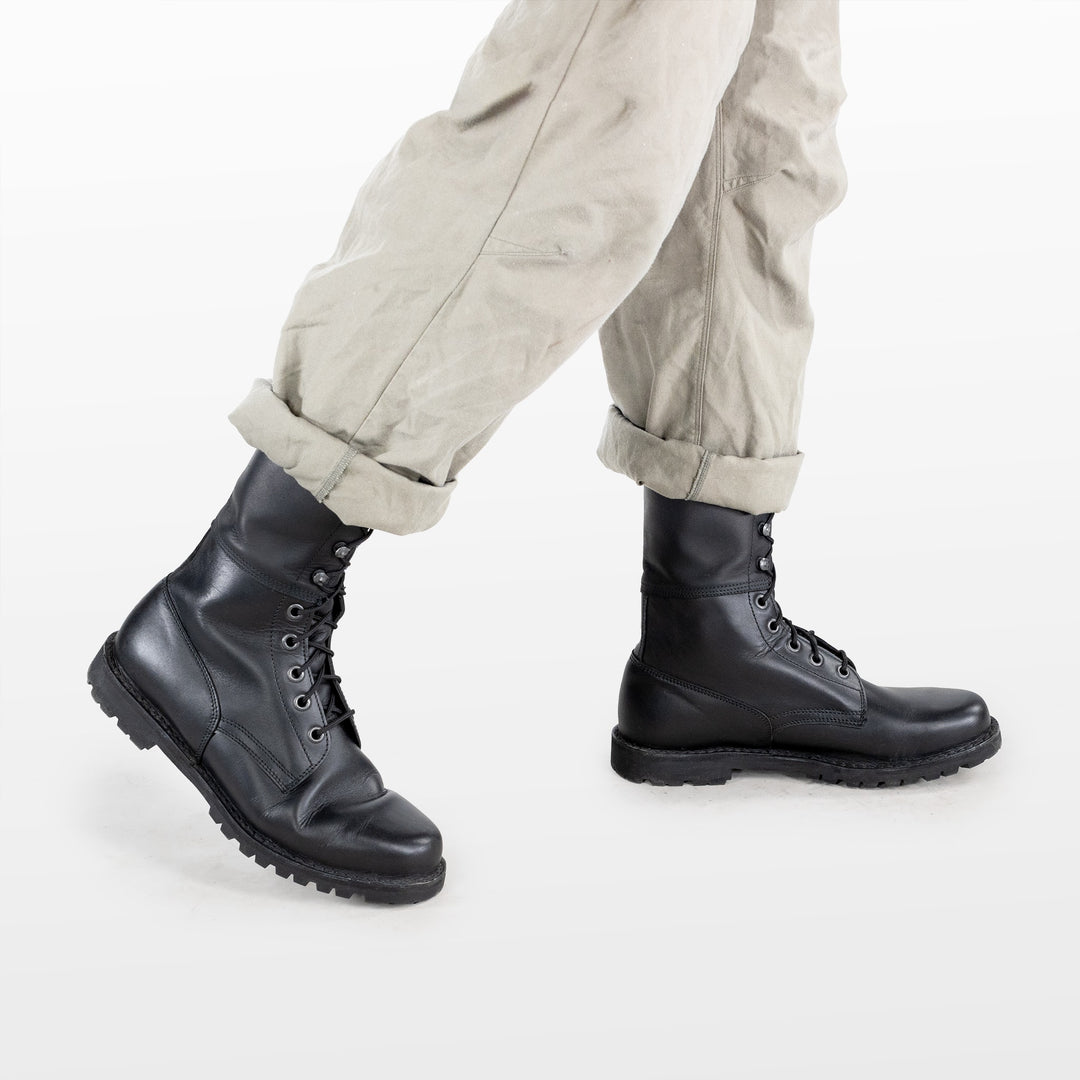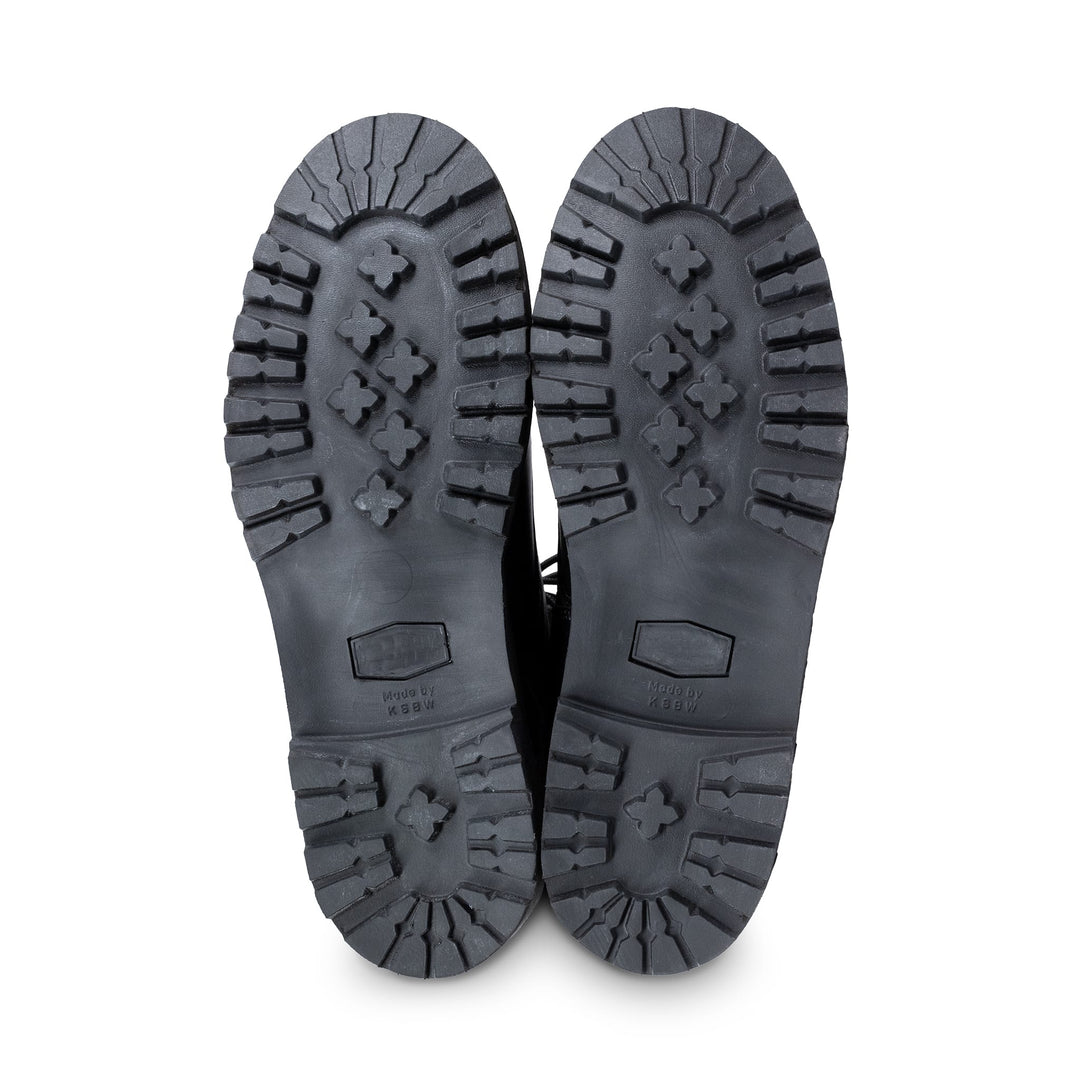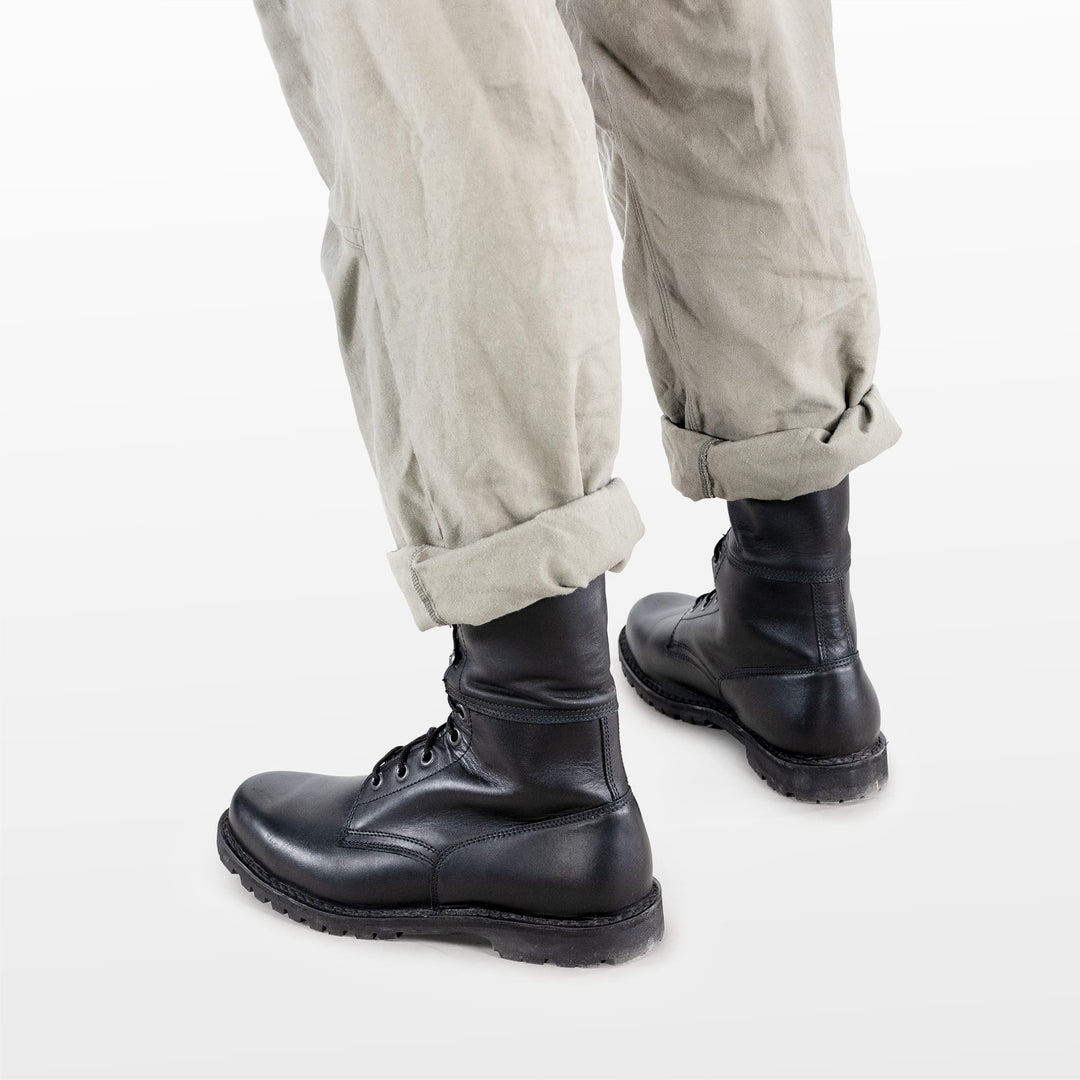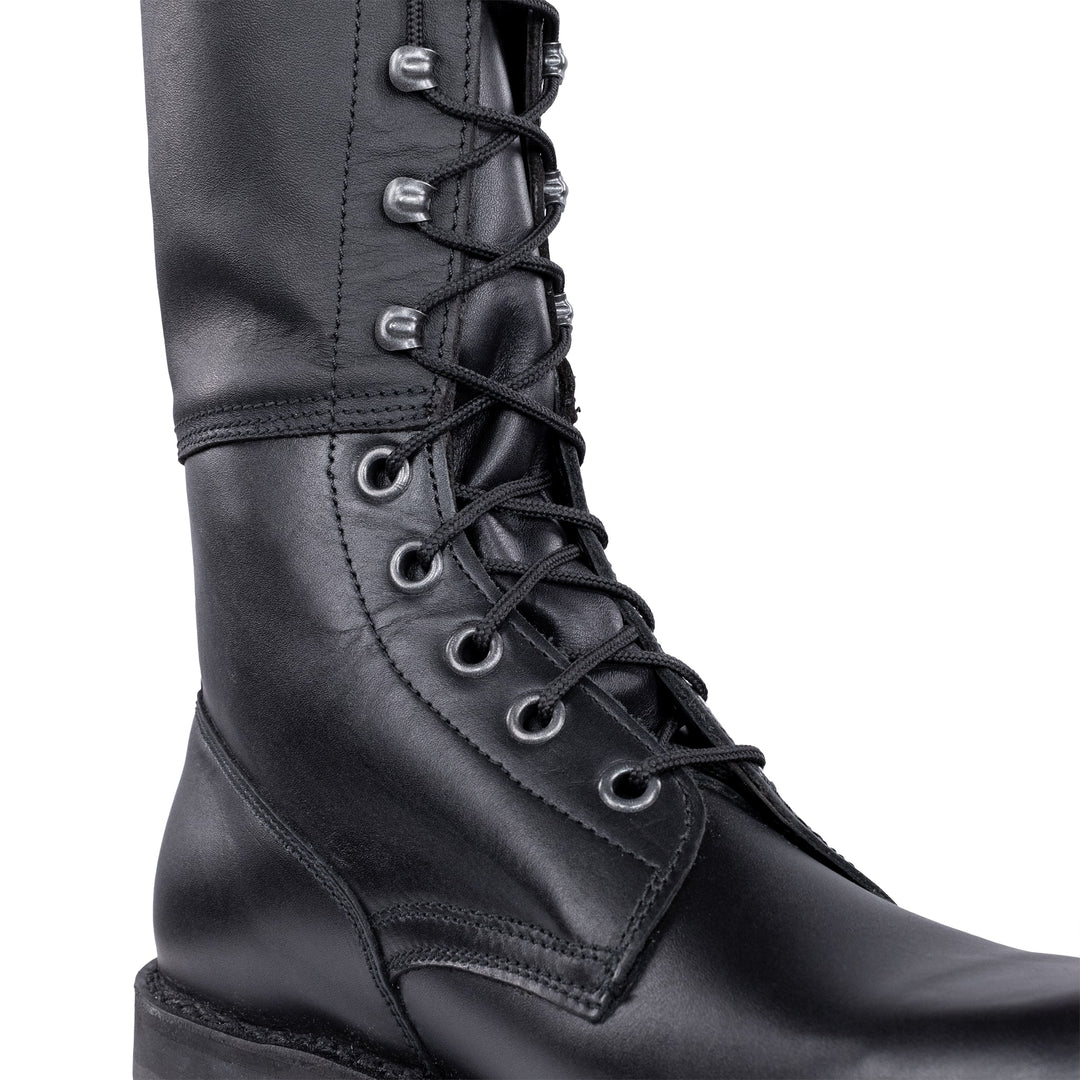 Made in Croatia for the Austrian Military
10" tall covering and supporting the entire ankle
2mm-thick full-grain cowhide
Easy to shine and polish, hides dirt and stains
Abrasion resistant laces
Rust-resistant metal hooks and loops
Reinforced heels and toes
Removable insole
Slip-resistant Lugged outsole resistant to oil, fuels, and acids.
Breaking in your boots
Generally, a breaking-in period for the stiff leather is recommended.
To break in your boots, wear them as often as possible over a one-to-two-week period of regular activity (think grocery store trips, not hiking trips or guerrilla warfare). Use good, full-length wool socks, and take note if you feel any "hot spots" while walking around. Friction between your foot and the boot causes blisters. Breaking in your boots should help with this.
If hot spots persist, silk or synthetic "liner socks" (worn under your wool ones) are a cheap and easy way to protect your feet. They are freely available at most outdoors stores.
The break-in period may be a little uncomfortable at first for wide feet, but the sides should stretch in time.
Sizing
Walk into any store that sells shoes and ask to have BOTH your feet measured.
If you find one foot is wider than the other, get that size and force the habit of leaning on the smaller foot when standing still.
If you plan to wear your boots with a thick insole and medium/thick socks, buy one size bigger.
For those with wide feet, you should follow your general style of fitting into normal shoes. For reference, a size 10.5 EE wide foot fits best in a size 12 shoe with an arch based insert. Flat feet or not, it is important to have an insert with a raised arch. The knuckles of your foot widen under your own weight. Displacing weight off that part of your foot will make it more comfortable.  
Austrian Boots are original sized on the EU sizing system, and come in two widths.
We have translated this system to US sizes for convenience.
For women, all our boots are sized for men. Please use the below table for conversions for your size.
Please don't hesitate to contact customer service if you need assistance.
Men's Shoe Sizes Length 
| | |
| --- | --- |
|  US Size | EU Size |
| 3 | 36 |
| 4 | 37 |
| 5 | 38 |
| 6 | 39 |
| 7 - 7.5 | 40 |
| 8 - 8.5 | 41 |
| 8.5 - 9 | 42 |
| 9.5 - 10 | 43 |
| 10.5 - 11 | 44 |
| 11.5 - 12 | 45 |
| 12.5 | 46 |
| 13 | 47 |
| 14 | 48 |
| 15 | 49 |
| 16 | 50 |

Shoe Width
 Description
US
DE


Standard for Men

Wide for Women

D


F





Standard for Women

Narrow for Men

B

G


Wide for men

Double Wide for Women

E
H
Women's Shoe Size Length Conversion
Rule of thumb for Men's to Women's shoe size conversions is adding 1.5 to the Men's size. 
| | |
| --- | --- |
| Women's US Equivelent | Mens US  |
| 4.5 | 3 |
| 5.5 | 4 |
| 6.5 | 5 |
| 7.5 | 6 |
| 8.5 - 9 | 7 - 7.5 |
| 9.5 - 10 | 8 - 8.5 |
| 10 - 10.5 | 8.5 - 9 |
| 11 - 11.5 | 9.5 - 10 |
| 12 - 12.5 | 10.5 - 11 |
| 13 - 13.5 | 11.5 - 12 |
| 14 | 12.5 |
| 14.5 | 13 |
| 15.5 | 14 |
| 16.5 | 15 |
| 17.5 | 16 |
Speed Lacing
It is of Ivan's opinion that tying your boots with a speed lacing method is superior to that of any external bow or knot.
It not only looks cleaner, but also minimizes the chance that you will trip, get your boots stuck, or have them untie because you used a granny knot.
There is an assortment of different speed lacing methods that will have these three attributes in common:
1. Very long laces (The excess in lace is necessary. If your boots come with normal-size laces, consider investing in longer laces)
2. At least one full wrap of lace around the ankle
3. Tucking all excess lace deep inside the boot.
Here are video guides for two different styles of speed lacing. [Style 1] [Style 2]
Most of the boots comes with laces that are a little too short for most conventional speed lacing (it is still very possible if you copy the way it is laced in the photos, but it is not as sturdy or easy as it could be). Luckily good laces are inexpensive. Warehouse Ivan recommends you pick up some 87" or 92" laces (regardless of shoe size, it doesn't affect the lace length like you think it would)
Blousing and Tucking Your Trousers
If you are not going to tuck in your trousers when you tie your boots and you are wearing baggy pants, we recommend investing in elastic blousing garters / "boot bands."
It will look cleaner and keep your trouser cuffs out of the way.
How Austrian Paratrooper Boots attained their legendary status, and why we brought them to the USA.
Ask anyone over the last 6 decades to describe black combat boots and they'll say roughly the same thing:
"It's a full grain leather boot. It comes up to your lower calf, eyelets and lace hooks all the way up the front. The sole is rubber with an aggressive lug pattern."
In the decades since WWII, this simple design has been a menswear staple, a fashion icon, and of course a widely issued military item. It's simultaneously mainstream and countercultural. It's undeniably old, and still very relevant.
Pictured: The Clash pose for a decidedly 'punk rock' photo during their 1978 tour in 'troubled' Belfast.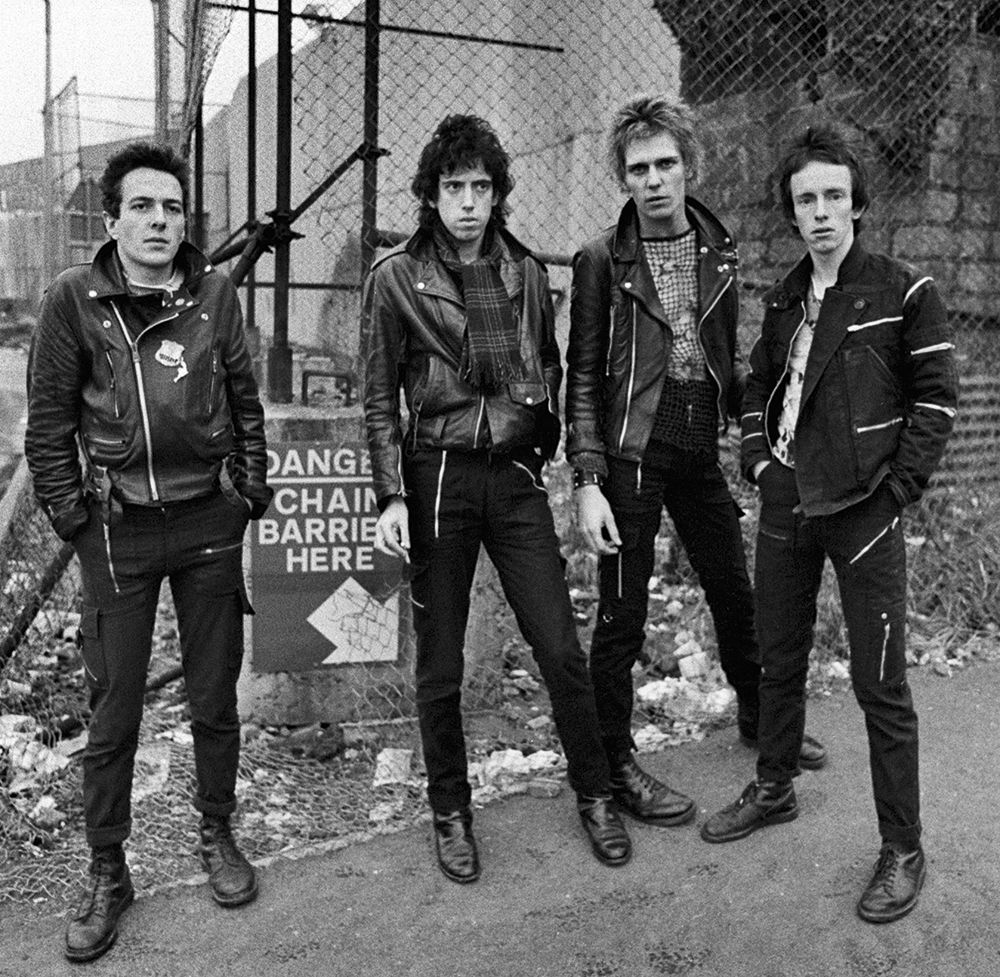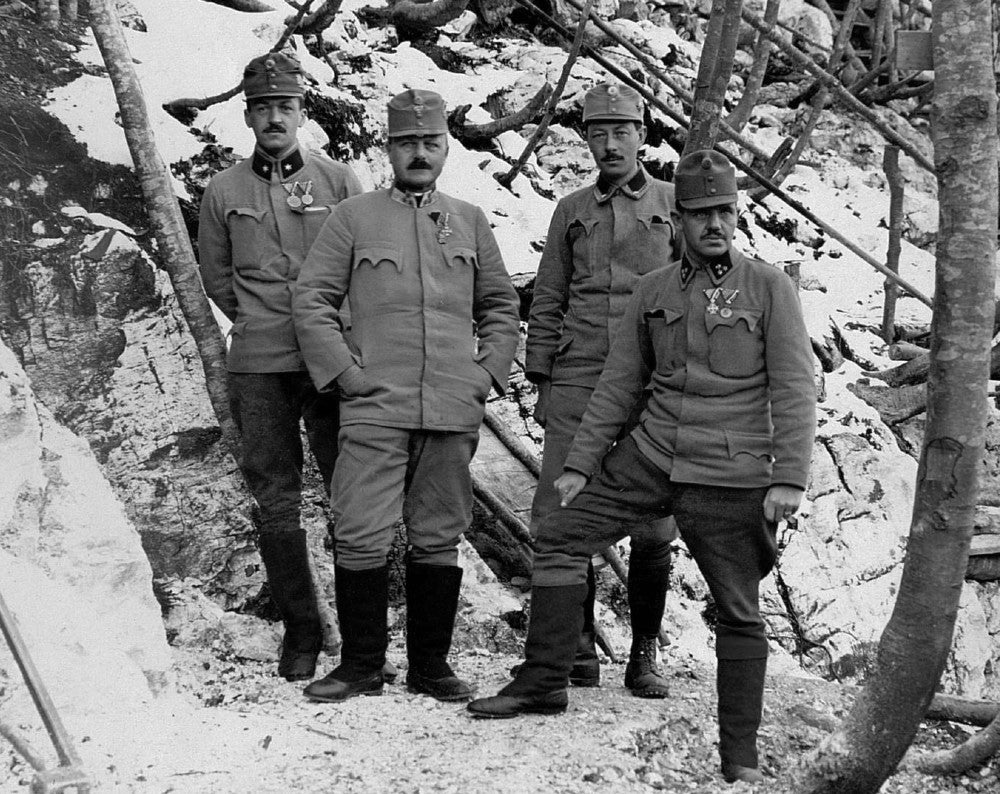 But Where Did They Come From?
From the 1800s through WWII, most militaries issued marching boots with leather soles and metal hobnails.

There's no doubt that 'jackboots' worked, but there were significant drawbacks.

The first military to seriously challenge the status quo was United States, with the M-1942 paratrooper boot.

Featuring a shock absorbing rubber composite sole and corset-like mid-length upper, the M1942 was significantly lighter, safer, and better insulated than its counterparts.

The improved ergonomics of the M-1942 boots quickly gained a following outside the US airborne. The new jump boot proved so popular that the US Army moved to adopt an almost identical design (the M-1948 'Russet'), with a rubber 'waffle' sole.
On The Battlefield
The new design was hugely popular with soldiers. Over the next 3 years, a good pair of M-1942s became one of the most valuable bartering items of WWII.
The 'paratrooper boot' was a generational step ahead, with dozens of advantages over contemporary light boots.
Within 6 years, the US fielded a M-1942 derivative as general service equipment, just in time for conflicts in Korea and Vietnam.
And they weren't the only ones, the new meta was spreading like wildfire...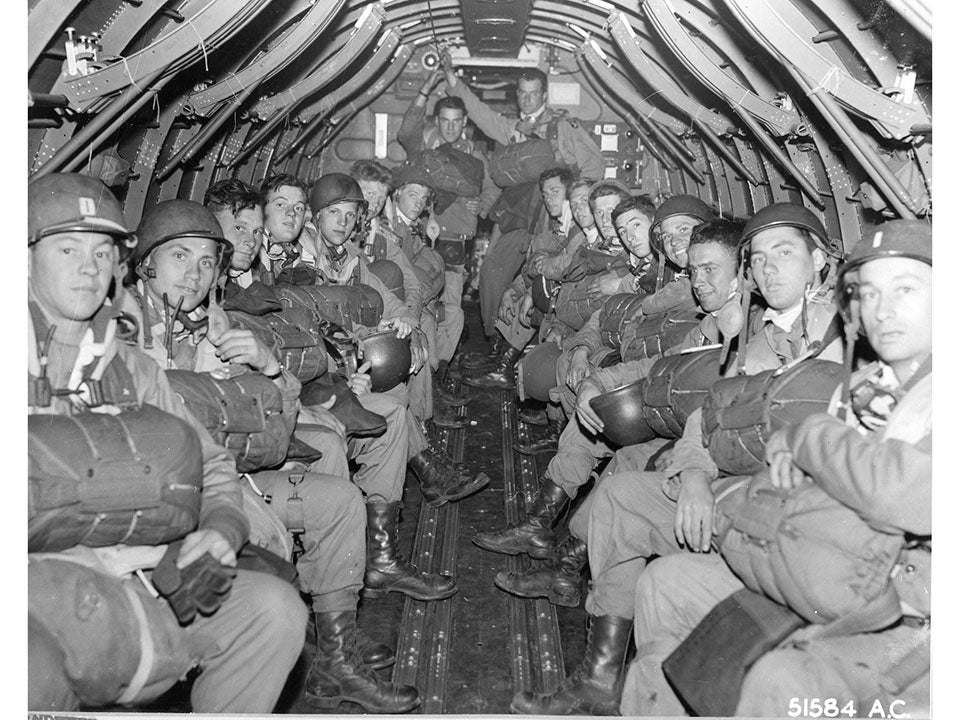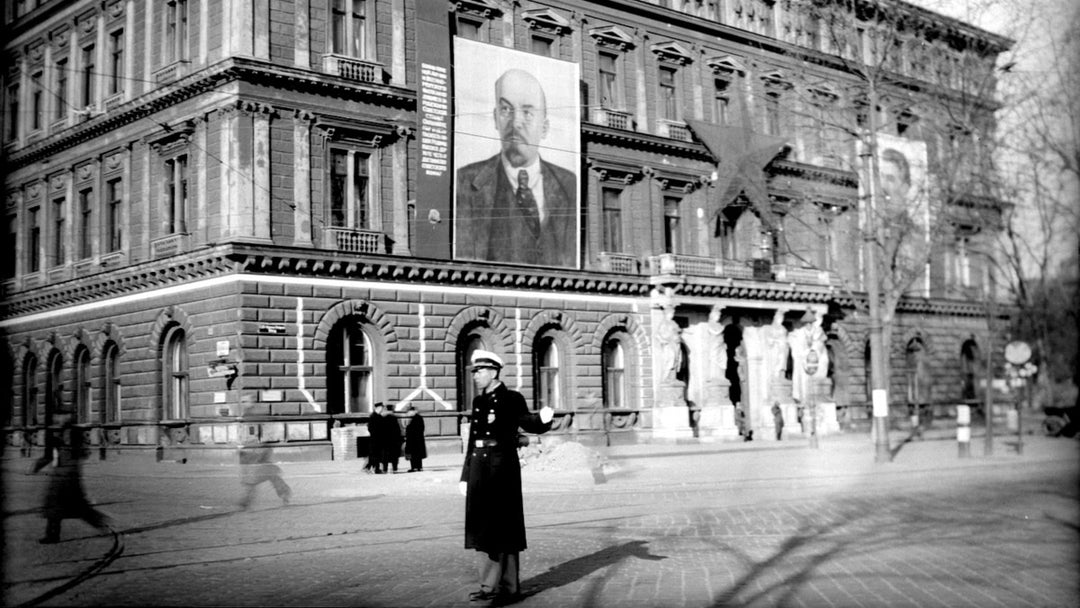 A New World Order
As post-war recovery took hold in Europe,so did the Cold War.Suddenly everyone had a defense budget, and a good reason to use it.
In the 1960s and 70s both East and West began to view military spending as a matter of survival.
In the midst of this, Austria faced its own miniature crisis.
Because of its geography and population, much of Austria's political and economic value was controlled by America, Britain, and France in the western part of the country. Unlike Germany, an isolated 'soviet zone' in eastern Austria would have been a net loss for the USSR.
Post WWII, Austria was jointly occupied by allied forces. As you might expect, the power struggle started immediately.
Soviet planners quickly realized that the German model of physically dividing the country wasn't feasible. The only option (short of WWIII) was a cultural and political victory.
When attempts to elect a communist government decisively failed in 1945, the USSR was forced to go to the negotiating table.
After the failed 1945 election, Soviet influence didn't go quietly. The socioeconomic instability following WWII was ripe with opportunity. Events like the 1947 Food Riots, and the 1950 Austrian General Strikes enjoyed more than their fair share of Russian astroturfing.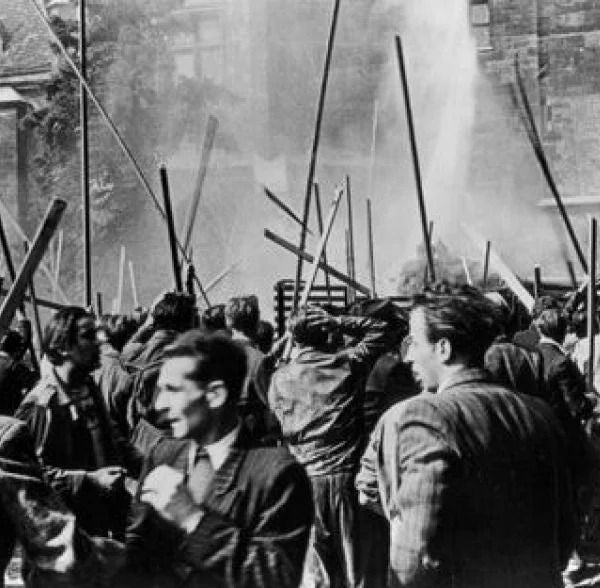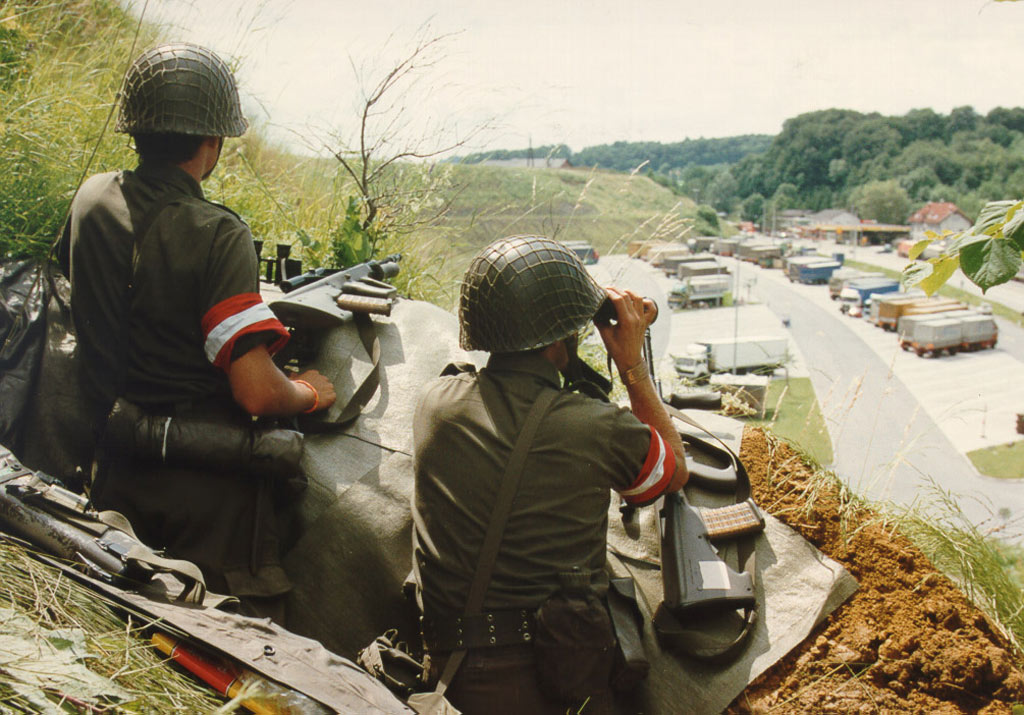 The situation wasn't pretty. Austria wanted independence. But if the Soviet army gave up their toehold, NATO would gain strategically valuable lanes into Yugoslavia, Hungary, and Czechoslovakia.
With Stalin's death in 1953, the political stalemate came to a close. The USSR agreed to withdraw from Austria, but only if the country committed to never join NATO. Nothing less than complete neutrality would suffice.
In 1955 Austria and her occupiers agreed to these terms, and the Soviet military withdrew.
In the 1960s and 70s Austria consistently invested between 1.3% and 1.9% of its GDP into territorial defense. Austrian neutrality became a point of national pride and civic duty, broadly similar to neighboring Switzerland.
End Of Occupation
With Soviet occupation over, fledgling Austria was in an extremely precarious position.
The Soviet promise of independence was tenuous at best, and Austrian territory sat on major invasion routes between NATO and the Warsaw Pact.
There was almost no likelihood of an unprovoked invasion from NATO, but if the Soviets decided to push to the river Rhine Austria would be a stepping stone.
In this scenario, there was no doubt that NATO would counter attack. If the Bundesheer could last 7 days, there would be enough time for the French Army to reinforce the German border with Austria.
But if the soviets rolled through in less than a week, NATO would be forced to use tactical nuclear weapons in Austria.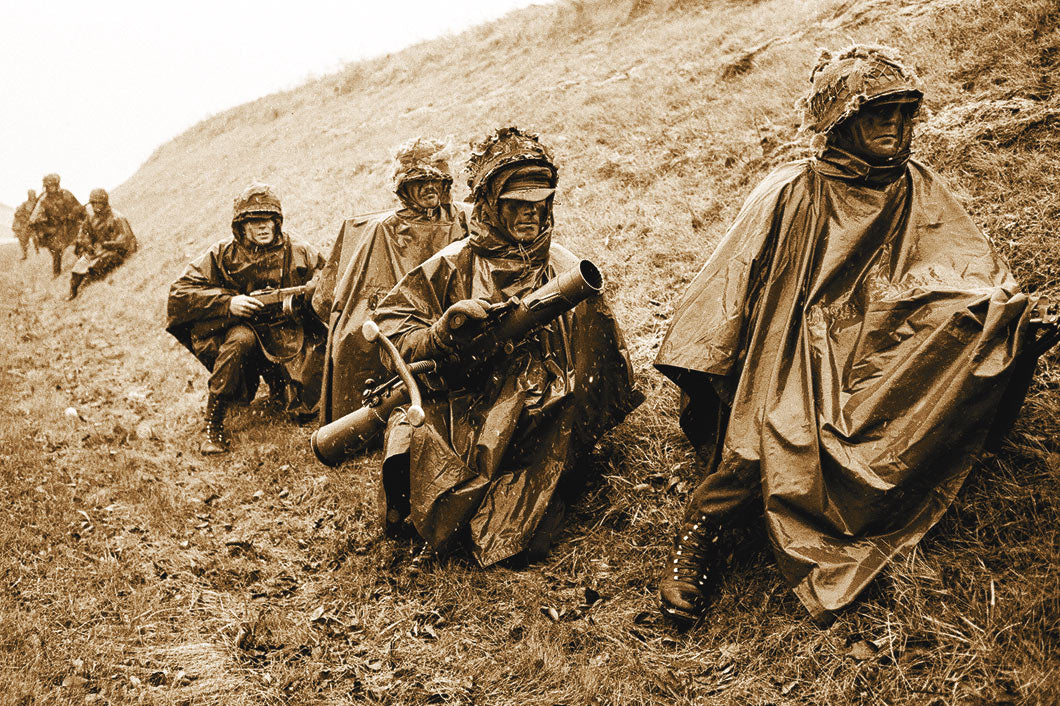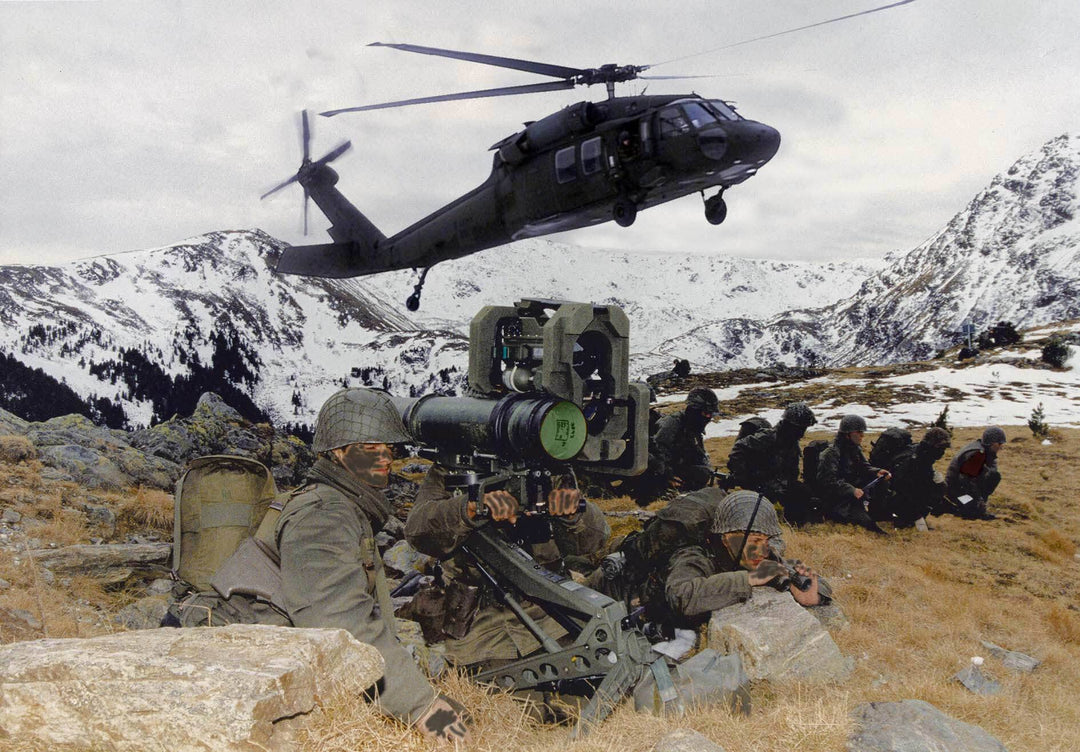 Feldschuhe Leicht
In 1975 the Bundesheer overhauled their 1950s WWII era equipment with the Anzug 75 system.
The Anzug 75 uniform was well made and borrowed heavily from successful western designs like the US M65 jacket.
But the runaway star of the show was undoubtedly the boots.
Derived from the American 'Russet' combat boot, Austrian Light Feldschuh were a dramatic departure from the orthodox.
Unlike their 1970s German equivalents, Austrian boots were made with soft leather interiors and high-traction Vibram-style soles. They broke in quickly and didn't require gaiters in most conditions.
They were an immediate success.
Thanks to mandatory service, almost 5 generations of Austrian men have worn the M75 Feldschuh.
Over the years it has accumulated a huge following inside Austria. In fact, the Bundesheer even changed the rules to allow conscripts to keep their pair after service.

It's such a good boot that the Austrian surplus market competes with established fashion brands...
Durability
Feldschuh are built for hard use and easy maintenance. Most boots in Austrian service see multiple consecutive users.
Versatility
The Austrian paratrooper's do-all, go anywhere design backs up its sharp looks. On the street or in the alps, they won't let you down.
Bundesheer Spec
Our boots are made in the same facility, with the same materials and the same construction. It doesn't get better than that.
Quality Counts
All the features of a premium work boot. Full grain leather, heavy stitching, and a goodyear welted sole.
Unmatched Reputation
On fashion forums and image boards, Austrian Paratroopers are coloquially known as the "meme boots." This title is well deserved — they look good on anyone, they're comfortable to wear, and they're almost impossible to kill. This has made them wildly popular both inside and outside Austria.
Over the last 7 years we've hand sorted and shipped truckloads of surplus ex-Bundesheer boots. When we delivered used these to our customers, they were often the 3th or 4th wearer. Invariably, people still loved them. This really speaks to the enduring quality of the Feldschuh.
You can read some of these past reviews below.
When Surplus Dries Up
Ever since Austria introduced their 'take home' policy in 2017, supplies of surplus Feldschuh have been drying up. Over the last two years, we've been exploring the possibility of bringing these boots back as a new production item.
Unlike other projects we've tackled, these boots are still actively issued.
That made things easier, but it was still something of a challenge to find the right manufacturer for the job. Especially so, with COVID and the war in Ukraine complicating matters.

After a lot of back and forth, we are very pleased to offer a brand-new Austrian 'Paratrooper' for sale.