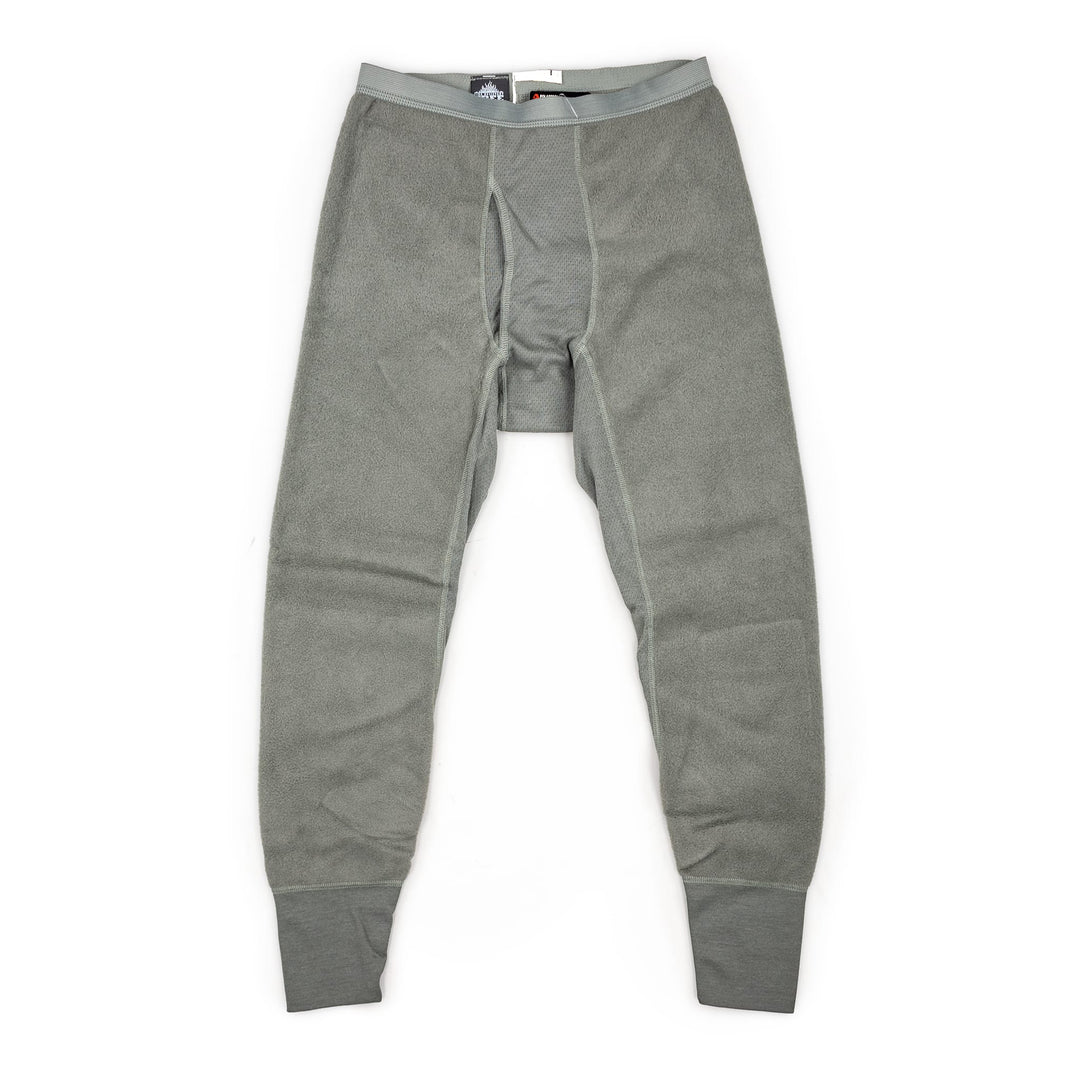 These are some seriously cozy and protective long johns. Not to be mistaken as a part of the ECWCS, but still fits in as a layer with arguably better protection.
Part of the Fire Resistant Environmental Ensemble (FREE), it's specially built for applications where FR protection is a must, and has an edge over many other flame retardant clothing on the market. Instead of impregnating the materials themselves with an FR treatment, these are made mainly with permanently Fire-Retardant materials that will last hundreds of washes without losing their ever-important no-drip no-melt properties.
Constructed out of Polartec® thermal FR fleece, it's quick drying, breathable, warm, and as mentioned it's permanently FR. Great for layering under cammies or welding/construction uniforms if you need FR protection on the job. While not part of the ECWCS/PCU it's a close stand-in for the heavyweight fleece Level II if you wish to mix and match pieces to make your own PCU suite.
ECWCS/PCU
If you want to go further down the US surplus rabbit hole, the PCU and ECWCS are a fantastic place to start with great quality gear for nearly any climate. You can read more about the rest of the system in an article here, and see an excellent use guide here.
Specs

Made in the USA
Made with DuPont Flame Resistant NOMEX/Polartec® high loft fleece
Breathable mesh groin & crotch gusset
ECWCS/PCU Level II Equivalent
Sizing
The sizing follows the US army's standardized sizing system, which will stay the same across all other uniform pieces you purchase. If you know your US Letter Pant size, that will typically work for the main size, but just in case, here's the sizing in waist circumference
'Small' — 27"-31"
'Medium' — 31"-35"
'Large' — 35"-39"
X-Large— 39"-43"
For the length portion, this is mostly determined by your height.

'Short' — 5'5" - 5'8"  (typically 29-30" inseam)
'Regular' — 5'8" - 5'11"  (typically 32" inseam)
'Long' — 5'11" - 6'2"  (typically 34" inseam)
'Extra Long' — 6'3" - 6'6"

A vast majority of people will choose the "regular" length, which changes slightly across garments to keep desired proportions. Taller folks with shorter legs may wish to stick with "regular" length as well. 
Condition
All of our available thermal bottoms are in new condition, many with all of the original manufacturer's tags still attached. You may notice a seam-ripped tag likely containing NSN information and the like is missing, but these are otherwise brand new.